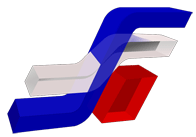 SQUARE SYSTEM INTERNATIONAL
the mastery of automation
Systems Integrator
in
Industrial Automation and Data Processing

Since 1988
Since 1988, Square System develops and integrates systems to create high-tech automatic devices.

Located in Sophia Antipolis, our R&D department enables us, thanks to its technology watch, to integrate the most innovative solutions in terms of voice, data and image transmission into our offers. In this way, qualified network experts adapt to the reality of the field and infrastructures.

Our vocation and our know-how in sectors as large and diverse as the manufacturing and pharmaceutical industries, airports, energy transportation, energy management traffic control and car park services are a huge asset to our customers.

Our main targets are customer satisfaction, development standardisation, generalised usage of working systems, the sustainability of installed solutions and operation reliability.

The commitment we give to our customers goes beyond the standard contract. It is based on a long-term partnership so that our offer can integrate their needs on a daily basis.

Join forces to build your solutions for tomorrow.



Download brochures of our products :